Think and speak in Russian
Online course - Level A2- B1

"Вы изучаете русский язык в течение многих лет, но до сих пор не говорите на нём свободно? 
Это не ваша вина. Вы просто до сих пор не нашли эффективную систему обучения".
Курс "Коротко и ясно" - Что это значит?
Это специальная 10-дневная программа:


10 эпизодов
- простые повседневные ситуации в виде диалогов в контексте
100 минут
видео и аудиофайлы
30 упражнений
40 страниц с ПДФ
файлами
Бонус: 1 урок с Инной продолжительностью в 30 минут
"Я помогу вам не просто понимать русский язык, а начать говорить на нём легко и непринужденно".

Проблема изучения русского языка
Многие студенты тратят годы, пытаясь "понять" русскую грамматику: Глаголы движения - идти или ходить, надо или нужно, совершенный и несовершенный виды, падежи.  


Затем они расстраиваются, отчаиваются, потому что не могут свободно говорить и не понимают русский язык.


В чём проблема?
Проблема в том, что многие курсы русского языка слишком сосредоточены на грамматике. Язык, в этом случае, изучается теоретически. Невозможно изучать язык как алгебру, геометрию или историю заучивая наизусть формулы и даты. 


Язык нужно понять и чувствовать. Им нужно жить, на нём думать и говорить. 
Язык не изучается путём чисто теоретического анализа грамматики. Язык - это навык, который нужно освоить, так же как научиться играть на пианино, плавать, танцевать, кататься на велосипеде или играть в футбол.


Как изучать язык?
Заниматься дисциплинированно и регулярно. Уделять языку достаточно времени. Стараться каждый день становиться немного лучше.

Слушать, слушать — это основа, да, правильно. Но этого не достаточно, чтобы начать говорить на этом языке.
Вы годами слушаете подкасты, смотрите видео и фильмы, но никак не можете овладеть языком?
Только просмотр фильмов и видео на YouTube... не научит вас говорить на русском языке.
Наш метод улучшения русского языка
Читать и слушать много историй и диалогов.
Постепенно повторять ключевые выражения и новые фразы.
Обучение происходит в контексте: без изолированных списков слов и без чрезмерного анализа грамматики.
Вы учитесь думать по-русски и перестаёте переводить на свой родной язык.
Bonus: 1 lesson with Ina
This is what the students say after the first lesson.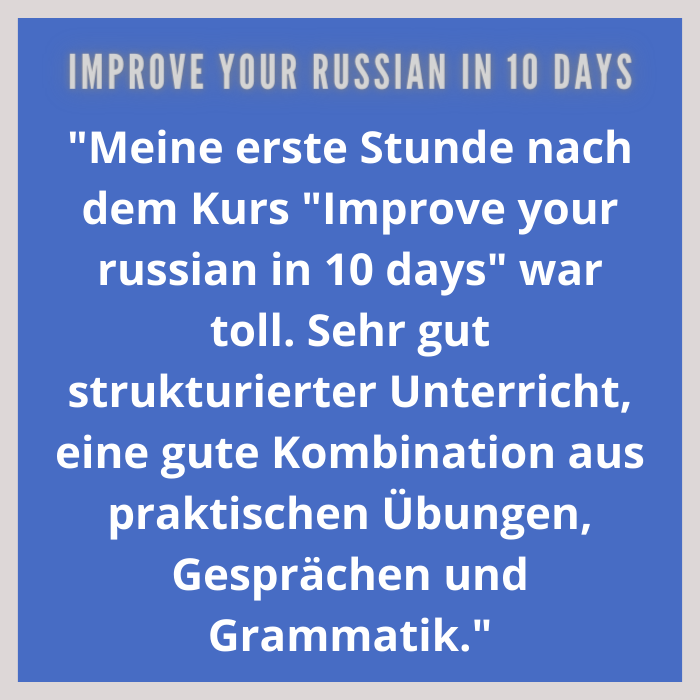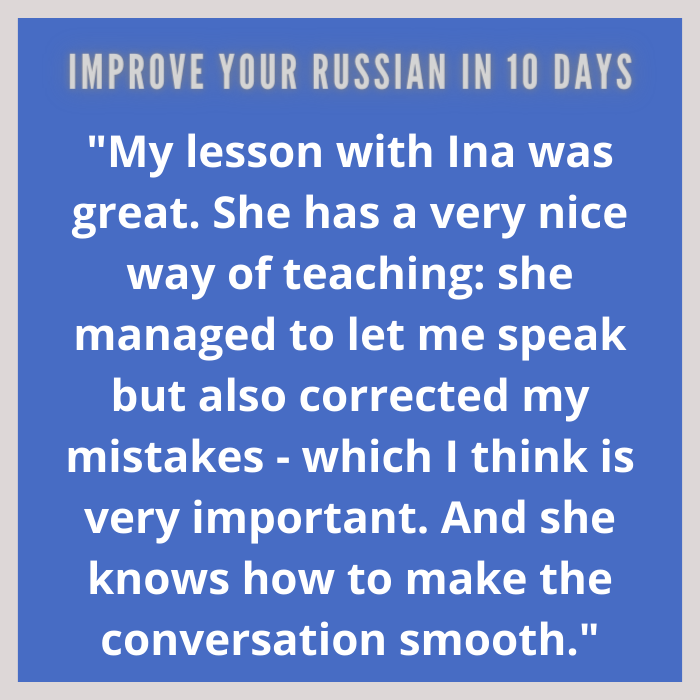 Paola, Italy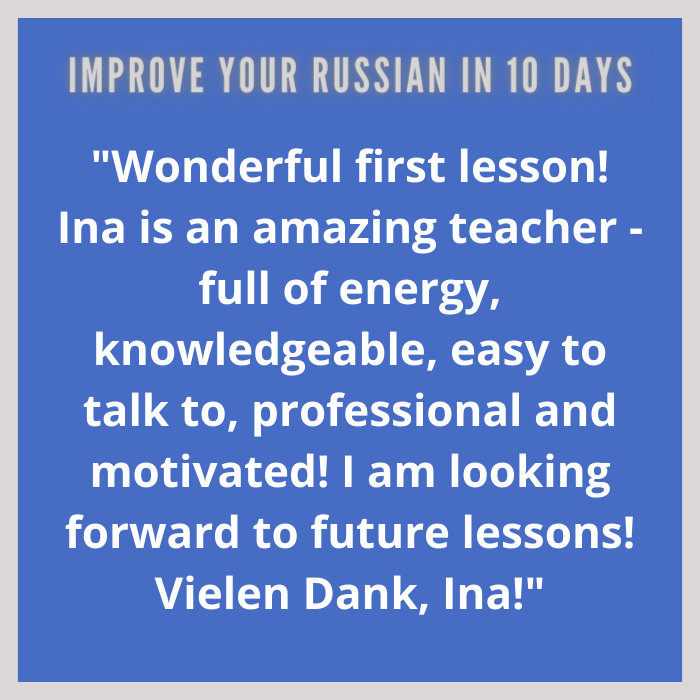 Frequently Asked Questions

Where and when is this course taking place?
The whole course is online.
You can work with this course at home, in the office on the subway, anywhere.
You can use this course on your computer as well as on your cell phone or tablet.
How long is this course?
You can finish this course in 2 weeks.
You can also study slowly, at your own pace, as you wish.
For how long do I have access to this course?
This course is yours forever.

Don't miss the discount on this course with a free lesson with Ina.
You want to improve your Russian, I'm waiting for you in the course.
Still have doubts? Anyway, for any question, do not hesitate to contact me
HERE!
I will be happy to help you!
Check your inbox to confirm your subscription